Cosmetic

Dentistry
If you're like most people, there's probably something about your smile that you'd like to improve. Would you like to brighten your discolored or stained teeth? Do you have a chipped tooth that's been bothering you for years?
At Cedar Road Dental, our emphasis is on providing treatments that improve and protect your oral health. But we also know that a beautiful smile helps you look your best and boost your self-confidence.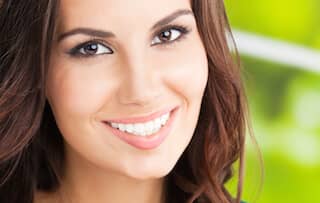 Convenient Teeth Whitening
Most anyone can benefit from a professional teeth whitening treatment. Everyone will experience some degree of tooth discoloration as they age. If you notice that your teeth aren't as bright as they used to be, we have options that can bring back your youthful smile in just one office visit.
We offer both Zoom and KöR Teeth Whitening systems because they have both been proven to deliver excellent results that last. KöR whitening treatment requires one brief office visit and two weeks of follow-up treatment at home. Zoom professional whitening can be done as an in-office treatment, or we can provide a customized kit for you to use at home.
Porcelain Veneers
Porcelain veneers are thin layers of white, natural-looking porcelain that are bonded to the front surface of your teeth. Veneers are a popular treatment that resolves a number of aesthetic dental problems. Whether your teeth are discolored, chipped, or misaligned, we can often use porcelain veneers to restore your smile in just a few appointments.
Dental Implant Restorations
Dental implants are a permanent tooth replacement solution that look and feel much like natural teeth. Whether you need to replace one tooth, multiple teeth, or most of your smile, dental implants offer a secure, stable, and long-lasting tooth replacement solution. They have opened up a whole new world of solutions for difficult dental conditions that have been a challenge in the past.
An implant consists of a very small titanium post that is placed in your jaw. Once the healing process is complete, Dr. Zahir creates a beautiful dental crown that is attached to the implant. The result is a durable replacement tooth that looks completely natural and functions just like your own teeth. In cases of multiple missing teeth there are numerous options using implants that solve a variety of dental problems.
Tooth-Colored Fillings
We use a composite resin material to create tooth-colored fillings that blend perfectly with the shape and color of your tooth. Because this material can be shaded to match your teeth, it is also effective for repairing chips, cracks, and uneven spaces between your teeth.
We Work With Your Goals
Your smile is unique, and so are you. We want to get to know you so that we can understand your goals and provide solutions that help you achieve the perfect smile you desire.
With over fifteen twenty years in Hampton Roads, Dr. Zahir and our professional team have worked together for many years to build long-lasting relationships with all our patients. We treat only one patient at a time, which allows us to provide you with a completely personalized experience. Individualized, truly one-on-one care is becoming rarer and rarer these days in health care. We can provide that.
Please Call for More Information
If you're ready to take the first step to fix the little imperfections in your smile, please call our Chesapeake dental office. We will be happy to arrange a consultation to discuss all your cosmetic options.
What people saying about us
Dr. Zahir is amazing. So kind and very concerned with comfort and health. Took the time to put my daughter at ease. Her office staff are friendly and very knowledgeable. The overall experience at this office was perfect.

Rachel Augustine

This is the best dental office I have EVER gone to!!! Dr. Zahir is amazing!!! And the staff is even better!! I was very nervous and afraid after a very bad experience but I have found my life long dentist I can't say enough about how great the office and my procedures have gone thank you so much!!! If you are searching look no further they are the best!!!

Melthres Johnson

I had the best experience ever in a dental office. All staff is friendly and very helpful.

William Evans

Dr. Zahir and her staff are wonderful! Amber was extremely hospitable when scheduling my appointment, Debbie did my cleaning and surprisingly I fell asleep lol I wish I remembered the dental professional who took my xrays because she was amazing too! I've been a long time patient of Dr. Zahir and I love love love this new location so much! I will be referring all my family and friends! Thank you everyone for such a beautiful visit!

Mechelle Smith

Cedar Road Dental Dr. Zahir and her staff are AMAZING!!!!! They are so welcoming and considerate. They take the time to be extremely informative and make sure that in every process you are aware and comfortable. Dr. Zahir is now my forever dentist. I truly appreciate you and your incredible staff and thank you for your wonderful and expert care.

Nicole Bell