Porcelian Veneers

And Dental Crowns
If your smile has cosmetic flaws that you'd like to fix, there is often more than one way to solve the problem. Dental crowns and porcelain veneers are similar in that they can be used to conceal certain aesthetic problems. However, they each have their own unique set of characteristics that generally make one or the other more suitable for certain situations.
At Cedar Road Dental, our focus is on providing you with solutions that not only improve your oral health but also enhance your appearance. Dr. Zahir knows that every patient is unique, and she will actively listen to your concerns and questions to create a treatment plan that fits your specific needs.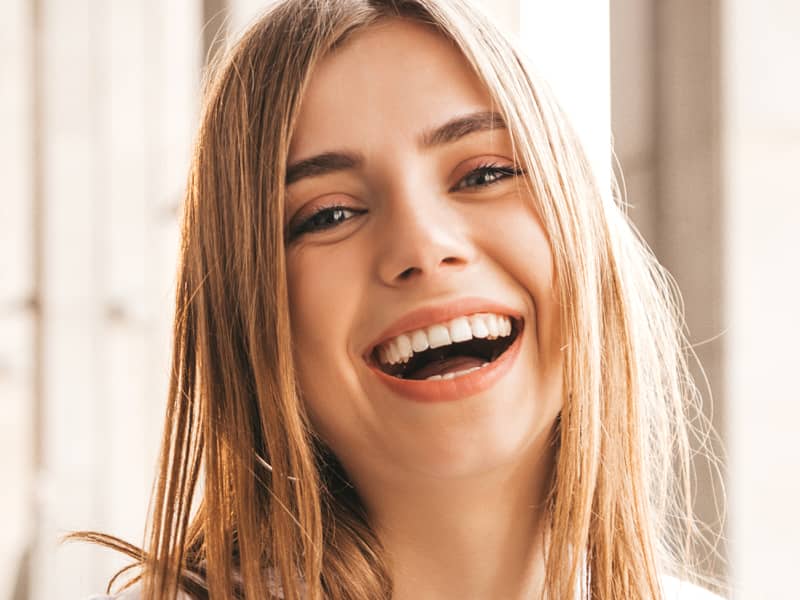 Porcelain Veneers
If you are interested in finding a minimally invasive treatment that will improve the appearance of your teeth, porcelain veneers are a great option. Porcelain veneers look completely natural and can beautifully transform your smile in just a few office visits.
Veneers may be an appropriate solution for correcting the appearance of teeth that are:
Stained and discolored
Worn, chipped, cracked, or broken
Poorly proportioned
Unevenly spaced
If you grind or clench your teeth, you may not be a good candidate for veneers as these actions may cause the veneer to chip or crack. Dr. Zahir will help you decide if porcelain veneers are right for you in this case.
Dental Crowns
Porcelain dental crowns (caps) are a dental restoration used to replace the visible portion of a tooth to return it to its original function and create a natural appearance. Crowns are sculpted to look like dental enamel while providing durability and resilience.
Other uses for dental crowns are:
Protecting and strengthening a tooth is damaged by dental trauma
Restoring a tooth damaged by severe erosion of the dental enamel
Providing support and function for a tooth that has been compromised by grinding or clenching
Protecting and strengthening a tooth after root canal treatment
But the uses for dental crowns are not limited to restoring the original tooth. A crown can also be designed to improve the aesthetic appearance of a tooth. While the actual process of placing a crown is nothing like veneers, their function is similar in that crowns can also be used to resolve similar cosmetic dental issues like chipped, cracked, or stained teeth.
Please Contact Us for More Information
Helping you achieve excellent oral health in a friendly, comfortable setting is our primary concern. We will work closely with you through every step of your treatment from your initial assessment to your follow-up appointments. Our friendly dental staff will go out of their way to make you feel like family and ensure that every visit with us exceeds your expectations.
If you have questions or would like to schedule a convenient appointment, please contact our Chesapeake dental office for more information.
What people saying about us
Dr. Zahir is amazing. So kind and very concerned with comfort and health. Took the time to put my daughter at ease. Her office staff are friendly and very knowledgeable. The overall experience at this office was perfect.

Rachel Augustine

This is the best dental office I have EVER gone to!!! Dr. Zahir is amazing!!! And the staff is even better!! I was very nervous and afraid after a very bad experience but I have found my life long dentist I can't say enough about how great the office and my procedures have gone thank you so much!!! If you are searching look no further they are the best!!!

Melthres Johnson

I had the best experience ever in a dental office. All staff is friendly and very helpful.

William Evans

Dr. Zahir and her staff are wonderful! Amber was extremely hospitable when scheduling my appointment, Debbie did my cleaning and surprisingly I fell asleep lol I wish I remembered the dental professional who took my xrays because she was amazing too! I've been a long time patient of Dr. Zahir and I love love love this new location so much! I will be referring all my family and friends! Thank you everyone for such a beautiful visit!

Mechelle Smith

Cedar Road Dental Dr. Zahir and her staff are AMAZING!!!!! They are so welcoming and considerate. They take the time to be extremely informative and make sure that in every process you are aware and comfortable. Dr. Zahir is now my forever dentist. I truly appreciate you and your incredible staff and thank you for your wonderful and expert care.

Nicole Bell