Dental Implants

Restoration
If you're like most people, there's probably something about your smile that you'd like to improve. Would you like to brighten your discolored or stained teeth? Do you have a chipped tooth that's been bothering you for years?
Fortunately, advances in dental technology have brought us an effective tooth replacement alternative – dental implants. Replacing a missing tooth with a dental implant is not just a cosmetic solution. Unlike bridges or dentures, dental implants are actually a fully functional, permanent tooth replacement.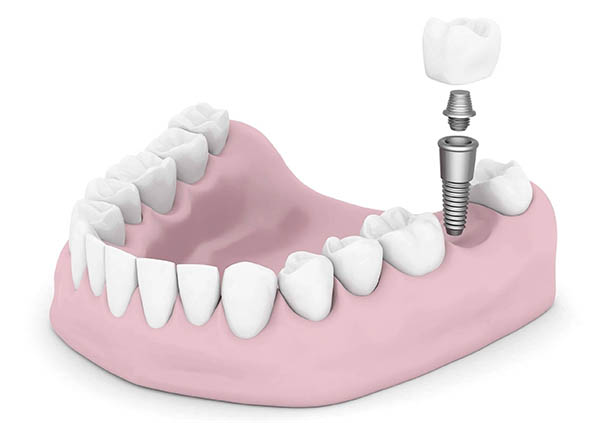 Tooth Replacement With Dental Implants
Since they can be used to replace a single missing tooth or multiple missing teeth, dental implants are widely used in modern dentistry. They are quickly becoming the tooth replacement method of choice for dentists and patients alike.
Once we determine that you are a good candidate for a dental implant, we will refer you to one of the top oral surgeons in the area who begins the process by placing the implant in your jaw. Dr. Zahir communicates with the implant specialist to keep informed about your progress throughout the healing process.
Once we know that the healing is complete and the implant has fully integrated with your jaw, Dr. Zahir creates a beautiful dental restoration (crown) that is the visible, functioning portion of the replacement tooth.
Why Are Missing Teeth a Problem?
Your teeth are always moving to some extent, and over time this movement can cause the rest of your teeth to move out of their proper position. This has a domino effect, gradually altering the alignment of surrounding teeth and potentially resulting in a severely misaligned dental bite.
The problem is further compounded by the fact that poorly aligned teeth can cause other oral health problems, such as:
Breakage and fracture of teeth
Gum disease and bone loss
Teeth grinding
Temporomandibular joint disorder
Premature wear
Normally, the roots of your teeth help to stimulate bone growth in the jaw as you chew. When you lose a tooth, the bone may start to deteriorate. Over time, missing teeth can also lead to the functional breakdown of your jawbone, changing your bite and leading to a sunken appearance of your face.
But with advances in modern dentistry, you have options to prevent these long-term negative effects of tooth loss. Dental implants are the answer for many patients seeking to replace missing teeth to keep their bite and smile intact.
Exceptional Care, Beautiful Results
Dr. Zahir and our professional team are very proud of the reputation we have earned for combining thoughtful personalized, patient care with up-to-date dental technology. Our focus is on providing you with the highest quality health-enhancing treatments in a welcoming and friendly environment.
If you've been living with the embarrassment of missing teeth, dental implants may be the perfect solution for restoring your smile. Please contact our Chesapeake dental office, and we will be happy to arrange a consultation to explain the implant process as well as your other tooth replacement options.
We Work With Your Goals
Your smile is unique, and so are you. We want to get to know you so that we can understand your goals and provide solutions that help you achieve the perfect smile you desire.
With over fifteen twenty years in Hampton Roads, Dr. Zahir and our professional team have worked together for many years to build long-lasting relationships with all our patients. We treat only one patient at a time, which allows us to provide you with a completely personalized experience. Individualized, truly one-on-one care is becoming rarer and rarer these days in health care. We can provide that.
Please Call for More Information
If you're ready to take the first step to fix the little imperfections in your smile, please call our Chesapeake dental office. We will be happy to arrange a consultation to discuss all your cosmetic options.
What people saying about us
Dr. Zahir is amazing. So kind and very concerned with comfort and health. Took the time to put my daughter at ease. Her office staff are friendly and very knowledgeable. The overall experience at this office was perfect.

Rachel Augustine

This is the best dental office I have EVER gone to!!! Dr. Zahir is amazing!!! And the staff is even better!! I was very nervous and afraid after a very bad experience but I have found my life long dentist I can't say enough about how great the office and my procedures have gone thank you so much!!! If you are searching look no further they are the best!!!

Melthres Johnson

I had the best experience ever in a dental office. All staff is friendly and very helpful.

William Evans

Dr. Zahir and her staff are wonderful! Amber was extremely hospitable when scheduling my appointment, Debbie did my cleaning and surprisingly I fell asleep lol I wish I remembered the dental professional who took my xrays because she was amazing too! I've been a long time patient of Dr. Zahir and I love love love this new location so much! I will be referring all my family and friends! Thank you everyone for such a beautiful visit!

Mechelle Smith

Cedar Road Dental Dr. Zahir and her staff are AMAZING!!!!! They are so welcoming and considerate. They take the time to be extremely informative and make sure that in every process you are aware and comfortable. Dr. Zahir is now my forever dentist. I truly appreciate you and your incredible staff and thank you for your wonderful and expert care.

Nicole Bell